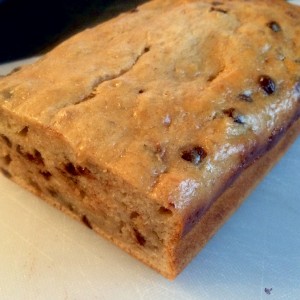 From this Stonyfield recipe. I decreased the sugar and added mini chocolate chips. I think I'd also increase the cinnamon and add a little nutmeg and clove. I like this one because it uses yogurt, though the consistency isn't ideal.
Ingredients
3/4 c Greek Plain Yogurt
1/2 c sugar
1/3 c packed light brown sugar
2 eggs
1 tsp vanilla
2 c flour
3/4 tsp salt
1 tsp cinnamon
3/4 tsp baking soda
3-4 over-ripe bananas
1/2 c walnuts
1/2 c mini chocolate chips
Directions
Preheat oven to 350. Mash the bananas in a mixer, then put them aside. Combine the flour, salt, cinnamon, and baking soda separately. Mix the yogurt and sugar, then add the eggs and vanilla. Add the dry ingredients and mashed bananas gradually. Mix in the nuts and chips, then split between two buttered loaf pans. Bake at 350 for about 45 minutes, until an inserted toothpick comes out clean.